Rotary Lift is an industry-leading automotive lift company serving markets across the world. They sell more professional lifts than any other company nationwide. Ervin & Smith partnered with their marketing team to create a transformative inbound marketing program that was a game changer in their traditionally non-digital industry. The cornerstone of the Rotary inbound marketing program is The Lift Buyer's Guide.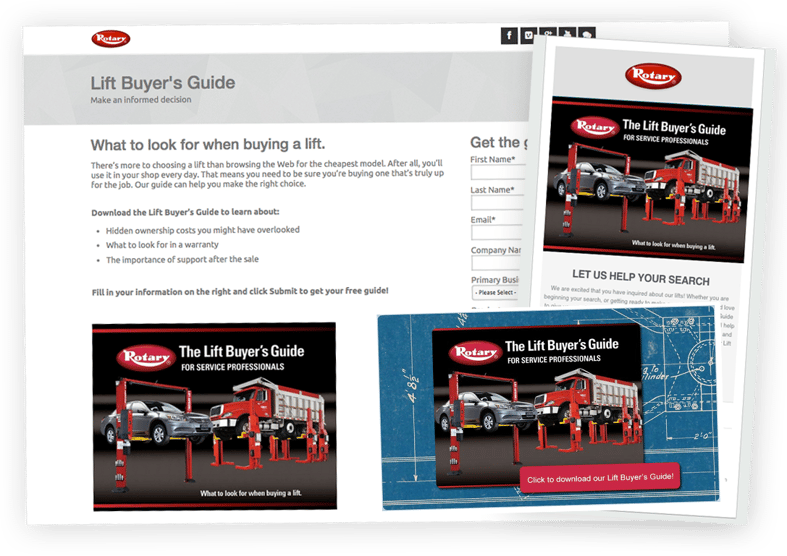 THE CHALLENGE
Rotary Lift is a B2B company that markets to the end user, but does not sell directly to them. Instead they rely on a network of local distributors to sell their product. Therefore, they're faced with the following unique challenges:
Rotary is the most expensive brand in the market so they are continually looking for ways to add value for distributors as well as the end users.
Rotary cannot always control the messaging that distributors are putting out about its products. Their distributors are busy and don't have time for digesting glossy outbound marketing collateral.
Historically, smaller shops have not been a key target audience for local distributors because they typically take a lot of "hand-holding" through the buying process and result in smaller sales.
Local distributors have the option of carrying a variety of lift brands, so there is a need for Rotary to not only provide a superior product but also differentiate themselves with exceptional service and support to their network of distributors.
Research has shown that the biggest challenge B2B marketers face in regard to lead generation is producing high-quality leads (61%). Rotary Lift and Ervin & Smith set out together to create a multichannel inbound marketing campaign to generate sales-qualified leads that could be passed on to a network of local distributors.
CAMPAIGN
The Lift Buyer's Guide campaign was the flagship initiative that launched the Rotary Lift inbound marketing program in March 2014. We chose the Lift Buyer's Guide to kick off our inbound efforts because the content has a broad appeal for top-of-the-funnel prospects. This let us maximize the size of the target audience and then segment leads into one of four buyer personas once they downloaded the content. We then sent the leads through very specific, relevant email workflows based on the persona's key challenges with the ultimate goal of nurturing them down the funnel to speak with a local distributor.
The guide has been strategically promoted through email marketing, visual calls-to-action, social media promotion, a pay-per-click campaign and a re-marketing approach. With each new tactic, we continue to see impressive results.
HubSpot tools used in the Lift Buyer's Guide campaign:
Analytics
Blogging
Calls-to-Action
Email
Landing Pages
Lead Management
Marketing Automation
SEO
Social Media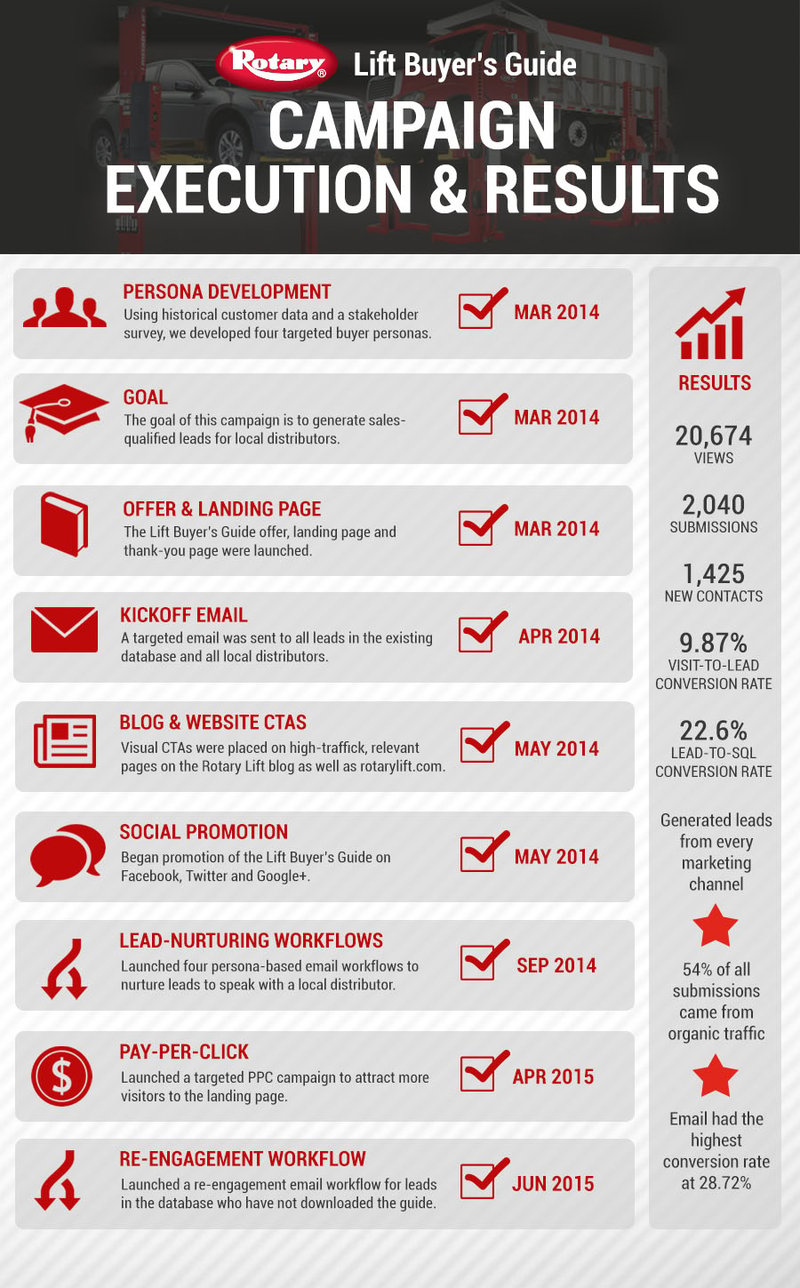 PERFORMANCE
The campaign has touched on every piece of the inbound marketing methodology and over the course of a year, has generated thousands of new leads and become a go-to piece of marketing collateral in the sales process. The business goal with the Lift Buyer's Guide is to generate sales-qualified leads for local distributors. Since the guide launched, 22.6% of leads that downloaded this piece of content have requested to talk to a local distributor.
Other notable metrics:
Views: 20,674
Submissions: 2,040
New leads: 1,425
Conversion rate: 9.87%
Note: Because of Rotary's custom/self-built CRM, we are unable to track customer conversions at this time.
The campaign has attracted visitors and converted leads from all marketing channels, including: direct, email marketing, organic search, paid search, referrals and social media. All performance data from launch until July 28, 2015, can be found below:
VIEWS

SUBMISSIONS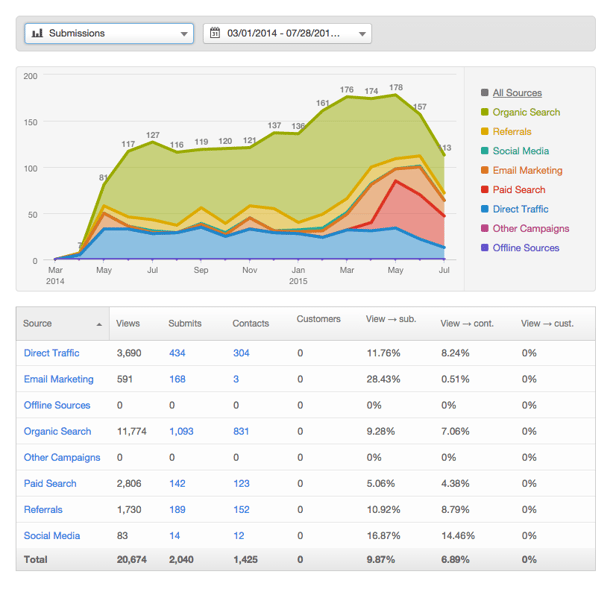 IMPACT
The Lift Buyer's Guide has become a trusted resource for distributors and the end consumer. In an industry that has historically relied on traditional marketing and communications, this campaign has helped springboard Rotary into the digital world. Across their entire inbound marketing program, Rotary saw a 39% increase in visits and an 89% increase in leads generated year-over-year. And this guide has been the key factor in much of that success.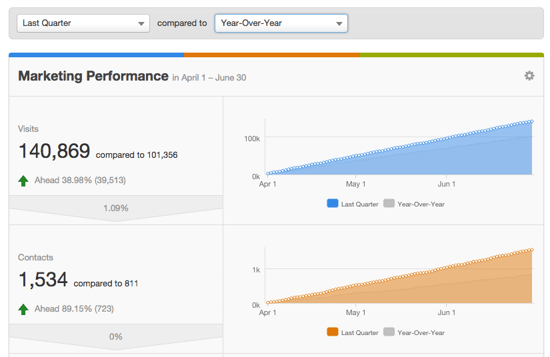 In addition to driving traffic and leads, the guide also continues to receive praise and positive feedback from company leadership, distributors and buyers alike.
Steve Fortman, Owner
Minnesota Auquipco, Inc.
Since I have been associated with Rotary Lift, this is the third buyers guide I have seen. The delivery and content fit perfectly with today's buyer. This is a tool that can keep Madison, Indiana's factory open more shifts per year. All that needs to be done is for the North American sales force to be trained in using this tool.
 
Great Job!
 

Matt Webster, Vice President and General Manager-The Americas
Vehicle Service Group (Rotary Lift parent company)
These guys are sending out some great tools that are must reads for your young new RM's and Product Consultants. …. I hope it's being passed on as required reading for new employees on your team.